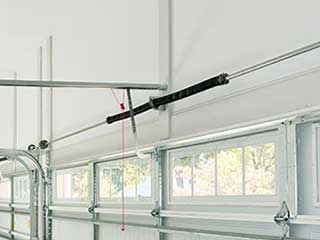 A garage door is something that most people never think about, as long as it continues to work properly. However, its various moving parts are under immense pressure every time the system is used, and during the long lifespan of an average garage door it's likely that the springs will need replacing, to keep the system from losing functionality.
Professional Spring Replacement
A spring that's beginning to fatigue will often give warning signs; squeaking or wobbling doors are a good indicator that the springs need replacing. If this is the case, it's essential that you arrange for repairs to be carried out as quickly as possible - if such a crucial component fails it can be very dangerous when the tension it carries is suddenly released. Our technicians are thoroughly trained to safely handle the replacement of these components, and will ensure that all work is carried out quickly and professionally.
Upgrading and Replacing
It's always better to prevent rather than cure, and ensuring that your garage door springs are kept in good shape is vital to keep your system fully functional. Many homeowners fail to get them changed despite the door's growing instability, and as a result there are many homes across the country which have old, unreliable springs installed. Upgrading such components is a wise decision - modern models are much tougher, more durable and corrosion-resistant, and eliminate the old spring's potential for failure.
Count on Our Professional Technicians
At our company we understand the issues that springs can develop, and we can advise you as to whether or not they will need replacing, taking into account any concerns you may have about the functionality and stability of your garage door.
Call Today
Our engineers have the depth of experience necessary to quickly diagnose any problem with your garage door and arrange for the necessary repairs to be carried out - contact us at Garage Door Repair Santa Monica today to see how we can help you.
We also offer the following:
Garage Door Safety Inspections
Opener Sensor Repair & Replacement
Oil Tempered Torsion Springs
Emergency Garage Door Services